OUR TEAM
A CULTURE OF PRIDE, CREATIVITY, PASSION AND EXCELLENCE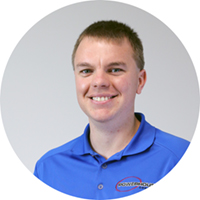 Operations Manager
Matt joined Powerhouse in April of 2010, after graduating with distinction from the Mechatronics Engineering program at the University of Waterloo.  After spending much of his early career in the engineering department, he switched gears and joined Powerhouse's business systems team where he redirected his passion for process optimization toward Powerhouse's internal process and systems.  After leading many major systems initiatives, he then took over the leadership of the business systems team itself, and more recently, the entire operations department.
As Operations Manager, Matt oversees a talented cross functional team comprising accounting, contract administration, procurement, and business systems.
In his free time, Matt can be found running games of Dungeon's and Dragons, playing board games, tinkering with 3D printers, building custom wood furniture, or watching the latest Toronto sports team fail to live up to expectations.  He's also spend a sizable amount of time chasing around his two high energy toddlers.